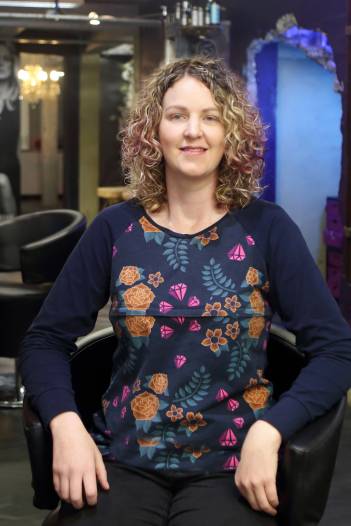 Colour Change & Ombre Specialist
A stylist truly dedicated to the hairdressing craft. Jacquetta is a fan of Keratin hair treatments and their ability to assist clients with styling their own hair to perfection. Jacquetta's strength and passion lie in creative colour and colour correction. She excells in colour removal and dramatic change. She has become sought after for her Blonding and seamless Ombre and Balayage services. Jacquetta is committed to seeing all her clients leave the salon with the tools and knowledge they need to keep their hair looking fabulous day after day.

Her continued growth as a senior hairdresser and salon leader has culminated in her being a sought after stylist and winning multiple industry awards.
Her passion for hair and fashion is reflected in the high quality work she consistently produces and has also won over some of the salons most loyal clients.

Jacquetta has recently returned form Maternity leave and is working a limit schedule. Early bookings are essential.


Awards

2016 - It's been another successful year for Jacquetta!! She has competed in the NZARH hairdressing competitions in Hamilton, Whangarei, Tauranga and Auckland. Winning the following... Waikato -1st presentation cut,1st live hair by night. Whangarei -1st presentation cut, 1st colour. Tauranga - 2nd presentation cut & Auckland - 2nd presentation cut, 1st live cut, 3rd live hair by night.
2015 Winner Waikato – The Style
Placed Auckland – Oceanic Masters Award – The Cut & The Conversion
NZARH Supreme Award Finalist 2012 & 2015
2014 Winner Waikato – Urban Colour, Oceanic Masters Award – The Cut & Oceanic Hairdressing Masters Award.
Awards in Urban Day Style & Oceanic Masters Award – The Conversion
2013 Awards in Urban Colour & Urban Day Style
2012 Winner - Styling Hairdresser of the Year - Waikato
Awards in Urban Day Style & Urban Colour
2011 Winner - Barbering Sculpture Cut, Urban Day Style, Urban Night Style & Urban Night Hair – Waikato, Bay of Plenty & Auckland
2008, 2009, 2010 & 2011- Winner in Directional Cutting, Day style and Night HairBack...